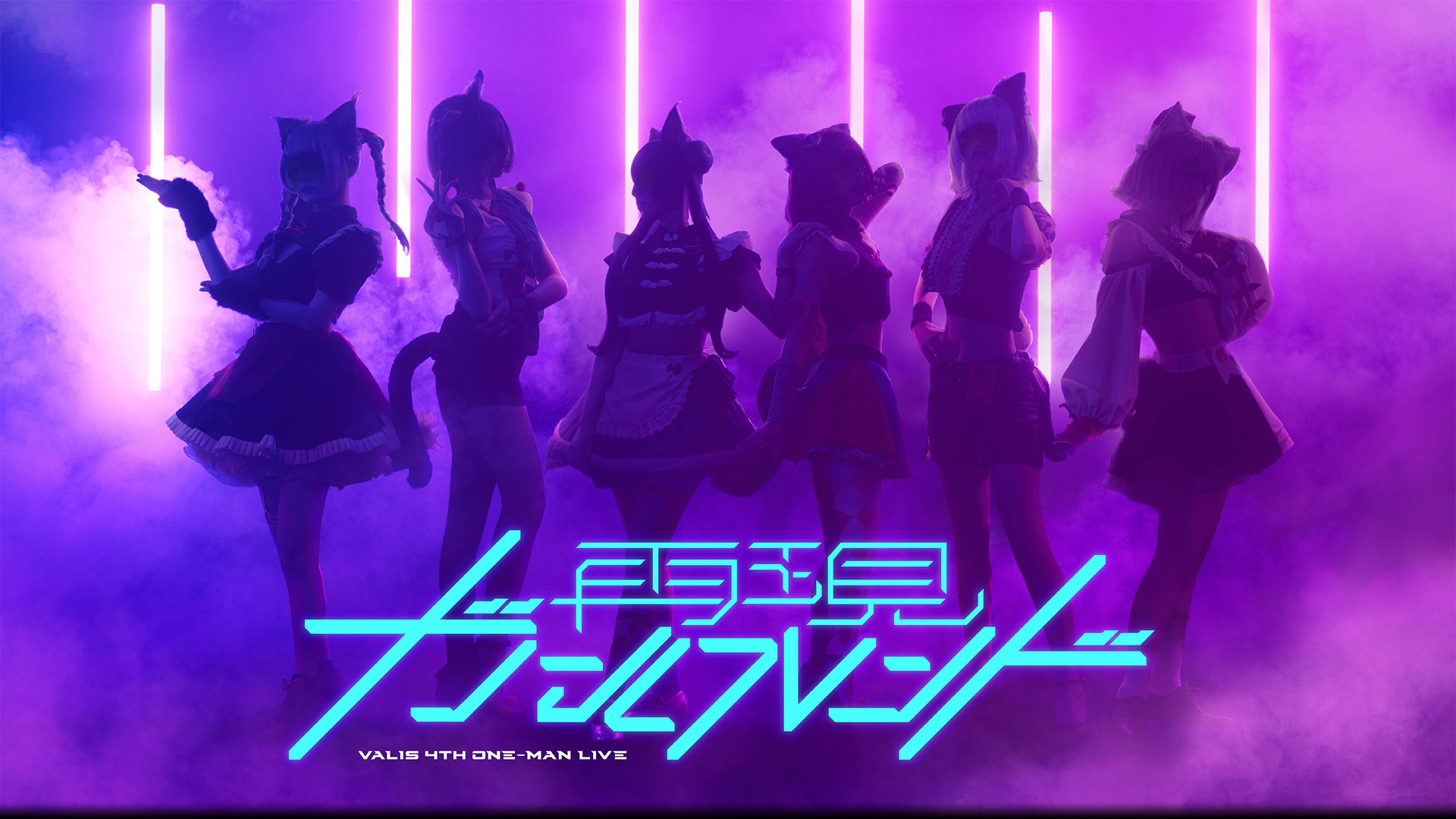 VALIS, the girls' group that seamlessly go back and forth between the real and virtual worlds, has announced the 4th solo live concert "SAIGEN Girlfriend"!
The venue is Spotify O-EAST in Shibuya.
The past story about how VALIS was formed will finally be unvealed.
VALIS 4th ONE-MAN LIVE "SAIGEN Girlfriend" Tickets for the real live concert are on available now!
[Venue] Shibuya・Spotify O-EAST
[Date & Time] SAT, September 16, 2023, at 6:00 p.m. (JST) *Doors open at 5:00 p.m. (JST)
[Ticket Information]
General ticket sale time: START: SAT, August 19, 2023, 10:00 a.m. / END: SAT, September 16, 2023, 2023, at 6:00 p.m.
LAWSON TICKET: https://l-tike.com/valis/
*Merchandises will be available at the venue. Details will be announced on the VALIS official Twitter account and official website.
Twitter: https://twitter.com/VALIS_Official
Official Website: https://valis.sinsekaistudio.jp/


Archive Streaming Period

SUN, September 17, 2023, 1:00 p.m.

~


SUN, October 15, 2023, 11:59 p.m.
*Unlimited playback during the streaming period.
Archive Ticket Sales Time
START: Once the archive is ready to be released after the live stream ends.
END: SUN, October 15, 2023, 8:00 p.m. (JST)
*Customers who have already purchased a live streaming ticket for "SAIGEN Girlfriend" can watch the archive as is.
Note
There will be approximately 30 minutes from the door opening to the start of the show.
If you wish to start from the main program, please adjust the playback position to the beginning of the main program by using the control bar (seek bar) at the bottom of the player.
You need to purchase a ticket to watch.
Streaming Date and Time

SAT, September 16, 2023,




at 6:00 p.m.

(Doors open at 5:30 p.m.)
Ticket Sales Time
START: FRT, August 4, 2023, 6:00 p.m. (JST)
END: SAT, September 16, 2023, 2023, 7:00 p.m. (JST)
*This ticket includes a free archive streaming.
Archive Streaming
START: Once the archive is ready to be released after the live stream ends.
END: SUN, October 15, 2023, 11:59 p.m. (JST)
*Unlimited playback during the streaming period.
Connection and viewing environment
- A stable and high-speed internet environment is required to use our service. If you have a fixed line at home, please use a wired connection. If you use a Wi-Fi connection, please make sure that there are no obstacles between the wireless router and the viewing terminal.
- Before purchasing a ticket, please check if our sample video below plays back without any problems in your viewing environment and device. Refunds or cancellations WILL NOT be accepted under any customer's circumstances after ticket purchase.





- Due to the length of the stream, there will be a large amount of data traffic. We strongly recommend viewing the performance in a high-speed and stable WiFi environment. The viewers are responsible for data usage costs for viewing the streaming.
- Please note that we are not responsible for any viewing problems caused by the customer's viewing environment.
Recommended environment
[PC]
OS: Windows 10, 8 (8.1), 7 / Mac OS X 10
Browser: Chrome 69 or later / Edge 84 or later / Safari 13.1.2 or later / Firefox 68 or later
[Smartphones and tablets]
OS: Android 6.0 or later / iOS 13.6 or later
Browser: Google Chrome (Android/iOS) 69 or later / Safari 13.1.2 or later
Other Notes
- Cancellations or refunds due to customer's circumstances WILL NOT be accepted after purchasing a ticket or viewing has begun.
- Due to technical difficulties, there may be situations where the visual and/or the audio is unstable. The streaming may possibly be disrupted during the performance for those reasons.
- Regardless of whether for commercial or private use, any kinds of recording, reproductions, and/or any acts that violate copyrights of the streaming are prohibited. Those unauthorized use of the streaming may result in legal liability. Taking screenshots of the streaming and uploading those "still images" on various social media and WEB services are permitted.
- If we find prohibited, illegal, or disruptive behavior, the participant would be forced out from the streaming.
- If we find a participant violating our policies, we would report it to the police and investigate it.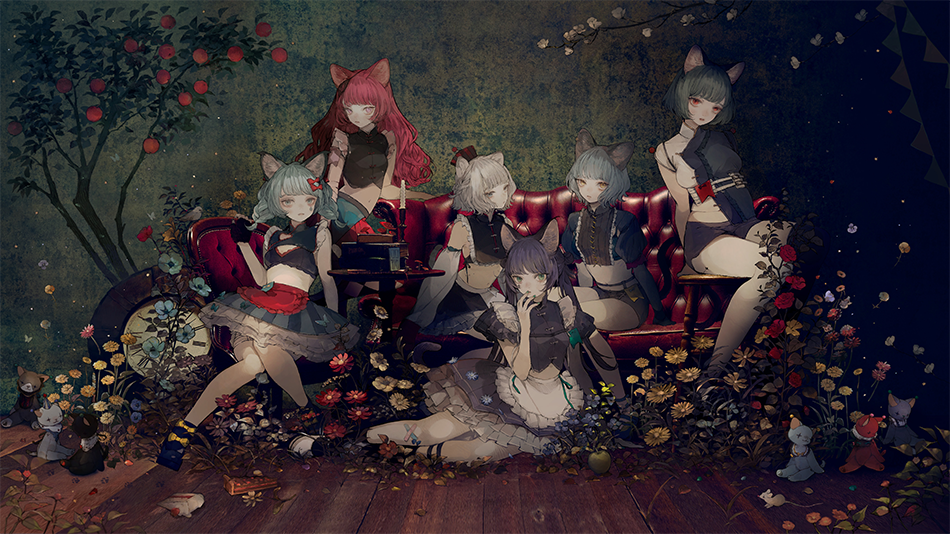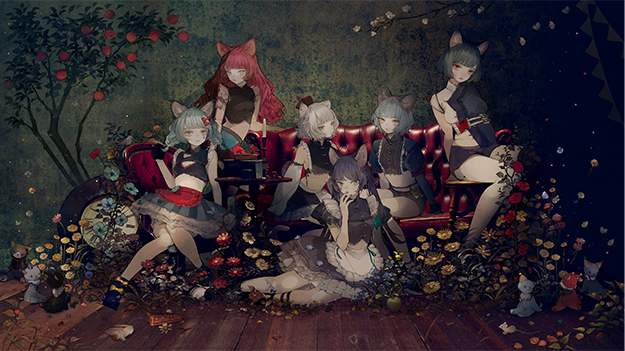 VALIS
VALIS, a virtual circus troupe that roams through virtual spaces. Girls who lost their places in the real world are drawn into the virtual world and become circus performers in animal forms. Since their debut with "Zankyo Vandera" in May 2020, they have worked with numerous renowned composers for their music pieces and created high-quality music videos that showcase the unique world of VALIS. They continue to deliver their circus shows to the world.
On July 31st, VALIS held their first streaming cover live concert, "Senritsu Collection," and launched a crowdfunding campaign for free streaming of their solo live performance from the next day. Within just 30 minutes from the start, they reached their funding goal of 3 million yen and eventually gathered nearly 11 million yen, demonstrating the high level of attention they receive. During the mini live event "Kanjo Prestige" held on October 24th, they presented a stunning dance show performed by beautiful 3D avatars, which defined the direction of VALIS' shows.
During their 1st ONE-MAN LIVE event "Kakucho Metamorphose" held on November 23rd, VALIS performed in the "Origin forms" for Act 2 after their captivating performances by 3D avatars in Act 1. They showcased a new concept of being a "virtual girls group" that moves between the real and virtual worlds.
On their 2nd anniversary on May 15, 2022, they held the mini live event "Kanjo Prestige Vol.2," showcasing performances with even further evolved visuals in terms of technology.
On July 30, 2022, they held their 2nd ONE-MAN LIVE event "Tensei Departure," which caused a sensation as a live performance composed entirely of Origin forms, despite being a virtual group.
On January 29 and February 4, 2023, they held "Hitsuzen-teki raison d'être Act.1 / Act.2." Act 1 was performed in a virtual venue, while Act 2 was performed in a real venue, showcasing the same performance in two different places and enhancing their identity as artists with a presence in both locations.